Air Conditioning Installation, AC Repair & Maintenance In Salt Lake City, UT
Are you suffering from air conditioning issues in the Salt Lake City area? Do you need an HVAC technician you can trust to resolve them?
Use Beehive Heating and Air's air conditioning repair service. Thanks to our extensive experience, you can be sure that we'll accurately diagnose the problem then provide a comprehensive, long-lasting solution. That's how we earned our great reputation.
No quick fixes, shortcuts, or corners cut here! Only expert advice, excellent customer service, and a 100% satisfaction guarantee.
We'll have your air conditioning system up and running again in no time. We'll even help optimize your system to make it as efficient as possible.
The result? Lower energy bills and better functioning HVAC.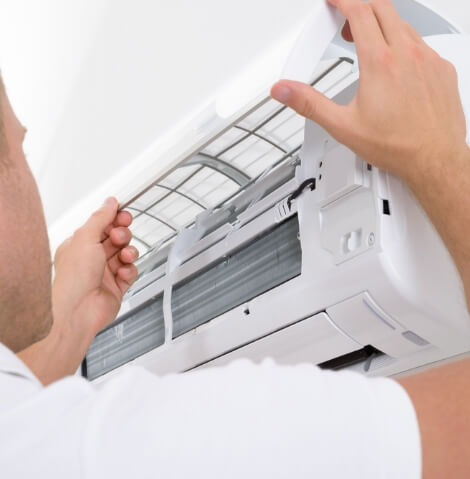 Common Air Conditioning Issues
Over the decades we've spent supporting Salt Lake City with HVAC services, we've identified the most common complaints.
Here are 10 reasons you might call Beehive Heating and Air for air conditioning repair.
1. Your air conditioner won't turn on.
Before you call us, check your thermostat batteries. If they're dead, replace them! If they're working, check your thermostat settings. When your thermostat is correctly set but your AC won't turn on, it could be down to a tripped circuit breaker. This can be easily reset. Call us if the problem persists!
2. Your air conditioner won't blow cold air.
This often occurs when dirty air filters are restricting the airflow in your unit. You have to change your filter regularly or it will freeze your condenser unit, stopping your AC from cooling effectively.
3. Your air conditioner is freezing up.
There are many potential causes of this problem. It may be down to low outside temperature, insufficient airflow, low coolant errors, blower motor problems, or a stuck contractor. We're happy to attend and figure out what's causing the issue!
4. Your AC has a refrigerant leak.
You'll know the coolant in your air con is leaking when the temperature starts to vary, your bills start to increase, and your coil is freezing. Your unit won't function properly if this is the issue, so don't hesitate to call the professionals!
5. Your air conditioner is making noises.
Different sounds indicate different issues when it comes to your air conditioner. A hissing sound could be a refrigerant leak, whereas a clicking sound is a sign of a relay problem. Motor or blower assembly issues can cause rattling or banging noises, but fan motor problems are associated with screeching sounds.
6. Your AC has a frozen evaporator coil.
When your AC doesn't have enough air to operate, it can make your evaporator coil freeze up. What causes insufficient airflow? Blocked vents and ducts, a faulty fan, or dirty filters. This is why system maintenance is so important. We can provide expert guidance on how to care for your system.
7. Your air conditioner is experiencing electric control failure.
If your air con is turned on and off frequently, this wears out the fan's controls and compressor. You need the electrical connection between the motor, the compressor, and the blower to function for the unit to start. Our technicians can check the electrical connections if your unit isn't working.
8. Your air conditioner is leaking water outside.
It's normal for some water to leak from your AC on a hot day when it's running. It can also occur in cold weather: the unit might freeze up and leak when it melts. However, a leaking AC can also be a sign of more serious issues like improper installation, a blocked drain pipe, or a broken condensate pan.
9. Your AC isn't draining properly.
The drain from your AC can become clogged if dust, algae, and dirt accumulate. Over time, this becomes mold and fungus which can create bad odors. Regular cleaning and maintenance can prevent this issue from occurring, but it could also be down to a poorly installed unit.
10. Your system has a sensor problem.
The thermostat sensor has an important job: it measures the temperature in the coil and adjusts its cooling capacity based on the environment. A sensor that is forced out of position can force the system to cycle on and off constantly. Don't worry! We'll be able to put it back into position.
What Beehive Heating and Air Has To Offer
There are many HVAC companies in operation, but Beehive Heating and Air has an incredible range of services on offer. We can support you with the following:
Alongside these quality services, we also offer some unique advantages to our customers:
If you want to spread the cost of your air conditioning repair in Salt Lake City, all you have to do is complete a short online form. As long as you're accepted, you'll be able to pay off your Beehive Heating and Air repair at a pace that suits you, making our service even more affordable.
We guarantee our work because we believe in our work. If you're unsatisfied by the air conditioning repair that we've performed, then we'll return 100% of your money. Wondering how we're confident enough to do this? It's because we have a history of delivering full customer satisfaction.
Our technicians are on call 24 hours a day for HVAC emergencies. Now, you don't have to wait and worry overnight about an issue. Instead, we can attend and ensure all is safe before we perform a comprehensive fix during
standard working hours. This brings our customers peace of mind!
Why Hire Beehive for Air Conditioning Repair in Salt Lake City?
If you live in the Salt Lake City area, you may have heard of our service before. We've been operating here for decades, and in that time we've grown a very loyal customer base.
Here are some of the reasons that people choose Beehive Heating and Air when they're experiencing air conditioning issues.
Responsive
Affordable
Experienced
Reputable
Comprehensive
Integrity
Qualified
Guaranteed
Responsive
We offer HVAC services 24 hours a day, 7 days a week. Air conditioning issues don't always strike at the most convenient time, so we pledge to be there for our customers exactly when they need us!
Beehive attends emergencies as quickly as possible to ensure all is safe until a full fix can take place.
Affordable
Experienced
Reputable
Comprehensive
Integrity
Qualified
Guaranteed
FAQ: Air Conditioning Repair